Natural Infinity 天然和有機
究竟它是否真的最好?我不知道,但我知道越多化學成份就一定不好。我是一名天然和有機產品用家,本店主力售買優質和有信譽的美國入口天然和有機產品,由嬰兒到成人,由頭到腳都全面關注到你所需,所想。

---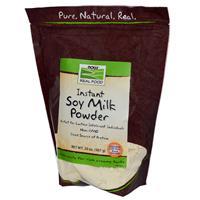 Now Foods-Instant Soy Milk Powder - 20 oz 不含基因改造大豆奶粉.
---
售價:
HK$ 128.00
手機購買
聯絡我們
如對以上商品有興趣,請按以下 "WhatsApp 圖片" 聯絡我們

商品詳情
Perfect for Lactose Intolerant Individuals
Non-GMO
Good Source of Protein
Mixes Easily for Rich, Creamy Taste
---
NOW Real Food™ Soy Milk Powder is produced from Non-GMO soybeans to be the perfect alternative for lactose intolerant individuals or persons allergic to cow's milk. This rich and creamy beverage is low in saturated fat, has no cholesterol, and has naturally occurring soy isoflavones. Soy Milk Powder is also a good source of high-quality vegetable protein. Soy Milk can be substituted for cow's milk in almost any application or enjoyed alone as a delicious and refreshing beverage. It dissolves easily in water.
---
Suggested Usage
Blend 1/4 cup of Soy Milk Powder per 8 oz. of water.
---
Serving Size: 1/4 Cup (22 g)
Servings Per Container
: 26
 
Amount Per Serving
% Daily Value*
Calories  
95  
 
Calories from Fat  
40  
 
Total Fat  
4.5 g  
7%  
Saturated Fat  
0.5 g  
3%  
Trans Fat  
0 g  
 
Cholesterol  
0 mg  
0%  
Sodium  
450 mg  
19%  
Total Carbohydrate  
6.5 g  
2%  
Dietary Fiber  
2.5 g  
10%  
Sugars  
1 g  
 
Protein  
8 g  
 
Vitamin A  
 
0%  
Vitamin C  
 
0%  
Calcium  
 
4%  
Iron  
 
6%  
* Percent Daily Values are based on 2,000 calorie diet.
† Daily Value not established.
Other Ingredients:
Non-GMO (Non-Dairy) Soy Milk Powder.

更多產品