Natural Infinity 天然和有機
究竟它是否真的最好?我不知道,但我知道越多化學成份就一定不好。我是一名天然和有機產品用家,本店主力售買優質和有信譽的美國入口天然和有機產品,由嬰兒到成人,由頭到腳都全面關注到你所需,所想。

---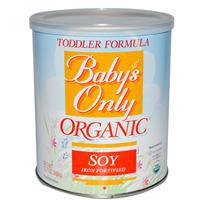 Baby's Only Organic® - Organic Soy Toddler Formula (12.7oz) 貝歐萊® 有機幼兒大豆奶粉
---
售價:
HK$ 158.00
手機購買
聯絡我們
如對以上商品有興趣,請按以下 "WhatsApp 圖片" 聯絡我們

商品詳情
適用年齡

重要營養
DHA – 幫助幼兒腦部和視力發展

ARA – 促進腦部和視力發展正常發展 

鐵質 – 有助幼兒發育

必須脂肪酸 – 幫助 DHA 在體內自然合成

抗氧化劑 – 英

國研究指出有機

牛奶比普通牛奶含高達 

60%

甚至更多的

抗氧化劑

有機認証  

美國農業部 USDA 有機認証 

全有機奶粉之原料質量和檢驗標準最高

不含三聚氰胺、重金屬、農藥、抗生素、生長激素、殺蟲劑、基因改造成份

  
「優等」有機奶源品質排名榜


請登錄http://www.cornucopia.org/dairysurvey/index.html

專家推薦
美國第一個有機嬰兒奶粉品牌

,

深受兒科醫生、註冊營養師、自然療法醫師、育嬰專家及媽媽信賴

 

只於有機食品專門店、嬰兒用品專門店、自然療法醫師或營養師診所發售,確保正貨
沖調方法 (罐內附有量匙)
沖2安士奶: 1鬆散的平量匙奶粉(8.5克)+2安士水(60毫升)
沖4安士奶: 2鬆散的平量匙奶粉(17克)+4安士水(120毫升) 
沖6安士奶: 3鬆散的平量匙奶粉(25.5克)+6安士水(180毫升) 
沖8安士奶: 4鬆散的平量匙奶粉(34克)+8安士水(237毫升)

Nature's One recognizes that breast milk is the best source of nutrition a mother can provide her baby the first year of life and offers advantages not found in any formula. Therefore, Baby's Only Organic is suggested for a baby 12-months and older. For infants less than 12-months, use as directed by a healthcare professional.
Baby's Only Organic includes Alpha-Linolenic and Linoleic Fatty Acids that the human body converts to Docosahexaenoic Acid (DHA) and Arachidonic Acid (ARA). All these fatty acids are found in breast milk and are important for brain and eye retina development.
Baby's Only Organic is scientifically formulated for easier digestion and provides complete organic nutrition needed for normal growth and development.
Suggested Use
For all ages: To ensure appropriate nutrition, do not exceed recommended water to powder ratio. Mix according to label directions unless otherwise specified by a healthcare provider.
Use Enclosed BPA-Free Scoop to Measure (1 Scoop = 8.75 grams)
| | | |
| --- | --- | --- |
| To Make | Formula Powder | Add Water |
| 2 fl oz bottle | 3 3/4 teaspoons | 2 fl oz |
| 4 fl oz bottle | 7 1/2 teaspoons | 4 fl oz |
| 8 fl oz bottle | 5 Tablespoons | 8 fl oz |
| 1 quart | 1 1/4 Cups | 32 fl oz |
Pour desired amount of water into bottle then add an unpacked, level measuring scoop/cup of powder.
Cap bottle; shake well until powder is completely dissolved.
Feed immediately. Discard leftover formula after feeding or formula that is unrefrigerated for 1 hour or longer.
Storage:
Cover prepared formula and refrigerate; use within 48-hours to preserve vitamins.
Cover opened can with lid and store in a cool, dry place; use within one month of opening.
Store unopened cans at room temperature; avoid extreme temperatures.
Other Ingredients
Organic brown rice syrup, organic soy protein concentrate, organic high oleic sunflower oil, organic coconut oil, organic soybean oil, monopotassium phosphate, magnesium sulfate, calcium ascorbate (Vit. C), sodium chloride, natural vanilla flavor, calcium citrate, choline bitartrate, l-methionine, taurine, ferrous sulfate, inositol, zinc sulfate, natural alpha tocopheryl acetate (Vit.E), l-carnitine, niacinamide, calcium pantothenate, vitamin A palmitate, thiamin hydrochloride (Vit.B), copper sulfate, folic acid, phylloquinone (Vit.K1), potassium iodide, sodium selenate, biotin, vitamin D3, cyanocobalamin (Vit. B12).
Dairy free, lactose free. Made without GMO ingredients
Warnings
Do not use a microwave oven to warm formula. Pasteurized during processing to insure safety.
Supplement Facts
Serving Size: 2 unpacked, level scoops (17.5g) (makes 4 fl oz/120 ml prepared)
Servings Per Container: about 21
 
Amount Per Serving
Calories
80
Total Fat
4.5 g
Trans Fat
0 g
Sodium
25 mg
Potassium
120 mg
Total Carbohydrate
9 g
Dietary Fiber
0 g
Sugars
4 g
Protein
2 g
% Daily Value
 
Protein
15%
Vitamin C
40%
Iron
15%
Vitamin E
15%
Riboflavin
10%
Vitamin B6
8%
Vitamin B12
15%
Pantothenic Acid
8%
Iodine
10%
Zinc
10%
Vitamin A
10%
Calcium
15%
Vitamin D
15%
Thiamin
10%
Niacin
10%
Folic Acid
6%
Biotin
2%
Phosphorus
10%
Magnesium
8%
Copper
6%
Nutrients
Per: 100 Calories
 
Amount Per Serving
Protein
2.8 g
Fat (Lipids)
5.3 g
Carbohydrate
10.8 g
Dietary Fiber
.4 g
Water
140 g
Linolenic Fatty Acid
1000 mg
Linolenic Fatty Acid
110 mg
Vitamins:
 
Vitamin A
300 IU
Vitamin D
60 IU
Vitamin E
2 IU
Vitamin K1
8.5 mcg
Thiamin (B1)
100 mcg
Riboflavin (B2)
100 mcg
Vitamin B6
60 mcg
Vitamin B12
0.45 mcg
Niacin
1100 mcg
Folic Acid
15 mcg
Pantothenic Acid
450 mcg
Biotin
3 mcg
Vitamin C
20 mg
Choline
12 mg
Inositol
15 mg
Minerals:
 
Calcium
135 mg
Phosphorus
90 mg
Magnesium
20 mg
Iron
1.8 mg
Zinc
1 mg
Manganese
55 mcg
Copper
70 mcg
Iodine
10 mcg
Selenium
2.5 mcg
Sodium
30 mg
Potassium
140 mg
Chloride
60 mg

更多產品