---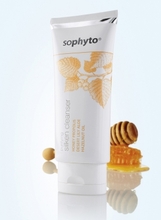 Sophyto - Purifying Silken Cleanser 100ml 亮澤絲柔潔面乳
---
售價:
HK$ 220.00
手機購買

商品詳情
Original : $230   Now :$220





(93% Certified Organic, pH5)
 洗面後絕不會感到乾燥繃緊。加入蜜蜂蜂蠟,讓您在清潔按摩時能改善皮膚的粗糙組織。內含豐富的冷壓榛子油,提供大量的維他命、礦物質及蛋白質,容易被皮膚吸收,能滋潤乾紋,滲透皮膚提供持久的水份。還加入各種植物籽油,有效清潔毛孔的污穢物及彩妝,同時讓皮膚感到柔軟舒適。
使用方法:取適量於面上,輕輕按摩,然後用化妝棉沾滿溫水或有爽膚水於全面抺一次。
主成份: 荷荷葩油、杏仁籽油、榛子籽油、蜜蜂蜂蠟、蘆薈、向日葵籽油
description
Used and recommended by professional make up artists for its outstanding results. Formulated to remove make-up and impurities without over drying, while conditioning agents restore and maintain skin's natural moisture balance. Honey propolis delivers age-defying benefits, improving skin's texture, while proteins gently purify, leaving skin feeling refreshed and clean. Always guaranteed to be free from artificial fragrance, colors, fillers and parabens. pH 5 for normal skin range.
Color: cream Aroma: warm honey Consistency:  soft and buttery
Find the best SOPHYTO products to remedy your skincare concerns
how to use
Using clean hands, massage over face and neck. Remove using a warm, damp face cloth. Wipe skin thoroughly.  Also effective as an eye make-up remover

CAUTION: For external use only. If skin or eye sensitivity occurs, rinse immediately with water and discontinue use.
TIP: If cleanser is absorbed too fast, moisten your fingertips with pH Optimizing Restorative Toner, or water and continue massaging.
Ingredients: aqua (spring water), *simondsia californica (jojoba) seed oil, cetearyl alcohol, *corylus avellana (hazelnut) seed oil, *prunus dulcis (almond) seed oil, sodium stearoyl lactylate, glyceryl stearate, *butyrosperum parkii (karite) fruit butter, *mel (honey), *aloe barbadensis (aloe vera) leaf juice powder, levulinic acid, lecithin, sodium dehydroactetate, *guar gum, glycerin, xanthum gum, *alcohol denat, *propolis extract, tocopherol, helianthus annus (sunflower) seed oil, ascorbic acid, sodium hydroxide, citric acid  *Organic, 93% of the agricultural ingredients are produced organically

 

更多產品