---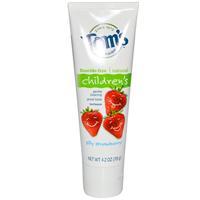 TOM's of Maine - Natural Fluoride-free toothpaste, Strawberry -4oz [天然無氟兒童牙膏(草莓味)}
---
售價:
HK$ 54.00
手機購買

商品詳情
List Price : $68            Now: $54 
美國第一個獲有ADA (美國牙醫協會) 認可的天然小朋友牙膏。
清新香甜的草莓口味,沒有泡泡糖的味道,含鈣和矽可把牙齒刷得更乾淨,更是不含氟的牙膏。美國第一個獲有ADA (美國牙醫協會) 認可的天然小朋友牙膏。

主要成份:甘油、水、碳酸鈣、水合氧化矽、菜膠、水果萃取物、十二烷基硫酸鈉、碳酸氫鈉。不包含三氯沙、糖精、人造甜味劑、人造防腐劑、人造色素或味道、動物成份。

建議用法:每次用膳後清潔牙齒,每日至少兩次,或按照牙醫指示。
2歲以下孩童:使用前請先咨詢牙醫。

Description
Contains calcium & silica for gently cleaning teeth
Our Silly Strawberry Fluoride-Free Toothpaste for children uses calcium and silica to gently clean and delicious real fruit—not artificial sparkles and bubble gum flavors—to appeal to your child's taste. With Tom's of Maine, brushing is an experience you'll both enjoy.
Fluoride-free
Some parents feel their children get enough cavity-fighting fluoride in the foods they eat and the water they drink, and don't want fluoride in their child's toothpaste. Other parents want to avoid fluoride altogether. We produce fluoride-free toothpaste because we respect our customers' diverse needs and interests.
Suggested Use
Brush teeth thoroughly, preferably after each meal or at least twice a day, or as directed by a dentist or physician. Children under 2 years of age: consult a dentist or physician.
Supplement Facts
| | | |
| --- | --- | --- |
| Ingredient | Purpose | Source |
| Glycerin | Moistener | Vegetable oils |
| Water | Consistency | Maine aquifer |
| Calcium carbonate | Abrasive | Purified calcium from the earth |
| Hydrated silica | Abrasive | Purified/modified silica from the earth |
| Fruit extracts | Flavor | Strawberry, banana, & other natural flavors |
| Carrageenan | Thickener | Seaweed (Chondrus crispus) |
| Sodium lauryl sulfate | Dispersant | Derived from coconut oil |
This product does not contain saccharin; artificial sweeteners, preservatives, colors, or flavors; or animal ingredients.
Warnings
Tom's of Maine products are tested for safety without the use of animals.

更多產品