---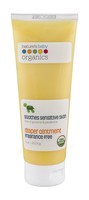 Nature's Baby Organics, Diaper Ointment, Fragrance-Free, 3 oz有機認証草本精華嬰兒布尿防疹護膏
---
售價:
HK$ 110.00
手機購買

商品詳情
List Price : $130    Now:  $110
100%天然有機植物製造!! 專業醫生推介!!不含SLS, Paraben, Propylene Glycol, 化學防腐劑及色素等, 不會引致敏感反應.

*野生蓖麻种子油,* 蜂蜡,*向日葵种子油,*橄榄果油,*椰子油,*瓊崖海棠油,维生素E(非转基因),*金盏花提取物,*繁缕提取
*认证的有机成分
Soothes Sensitive Skin
New & Improved
USDA Organic
98% Certified Organic
100% Vegetarian
Free of Glutens & Parabens
Cruelty Free and Vegan
Enriched with Organic Calendula Extract, Organic Tamanu Oil and Organic Chickweed Extract
Pamper baby with the incredible ingredients of Nature's Baby Diaper Ointment. Our soothing, ointment promotes healthy, smooth skin, keeping your cherished little one in cooing comfort. You'll love the way it makes baby feel, naturally.
Suggested Use
To help prevent Diaper Rash, apply ointment liberally to clean dry skin after each diaper change.
Supplement Facts
*Ricinus Communis (castor) Seed Oil, *Cera Alba (Beeswax), *Helianthus Annuus (sunflower) Seed Oil, *Olea Europaea (Olive) Fruit Oil, *Cocos Nucifera (Coconut) Oil, *Calophyllum Tacamahaca (Tamanu) Oil, Tocopherol (non-GMO), *Calendula Officinalis Flower Extract, *Stellaria Media (Chickweed) Extract
*Certified Organic Ingredients
Warnings
For external use only.
As with all bath items, please test on a small area of skin if known to have skin allergies. Keep out of reach of children.
Lis