---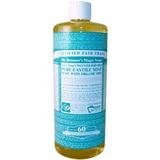 Dr. Bronner's Magic Soaps, Unscented Baby-Mild Pure-Castile Soap,944ml 有機溫和嬰兒潔顏露
---
售價:
HK$ 205.00
手機購買

商品詳情
Dr. Bronner 的精油皂液透過完美的配方組合,製造出具有綿密泡沫同時柔軟滋養肌膚的精油皂。不同於市面上許多商業肥皂,使用大量廉價的牛脂和微量 的椰子油或棕櫚仁油來裝飾標籤說明。Dr. Bronner堅持以最高的品質製作出市面上無法超越的商品。

主要成份介紹: 水、皂化的有機椰子*和有機橄欖*油、有機大麻油、有機可可巴油、檸檬酸、維他命E。
*由IMO證明是公平交易

建議用法:用適量潔顏皂液加少些許水搓至起泡沫,用來清潔臉部及肌膚。

*美國UCLA大學為新生兒及敏感肌特別量身訂製
*柔細泡沫輕柔帶出毛孔污垢以及殘留底妝
*洗後清爽無負擔,肌膚宛如新生兒般柔嫩細緻

Description
Made With Organic Oils!
No Detergents
100% Vegan. Health Is Our Greatest Wealth.
No Foaming Agents
100% Biodegradable!
Not Animal Tested
Enjoy only 2 cosmetics, enough sleep & Dr. Bronner's 'Magic Soap' to clean body-mind-soul-spirit instantly uniting One! All-One! Absolute cleanliness is Godliness! For facial packs, scalp & soothing body rub, add dash on bath towel in sink of hot water. Wring out. Lay over face & scalp. Massage with fingertips. Repeat 3 or 4 times 'til arms, legs & all are rubbed, always towards the heart. Rinse towel in plain hot water and massage again. Breathe deeply! Health is Wealth. Within 9 minutes you feel fresh and clean, saving 90% of your hot water & soap, ready to help teach the whole Human race the Moral ABC of All-One-God-Faith! For we're All-One or None! All-One! All-One! All-One!
Suggested Use
Dilute: Enjoy 1 soap for 18 different uses! 100% vegetarian super mild castile soap has outstanding water softening and cleansing powers. Preferable to harsh soap and defattening synthetics. It does not cut dirt, but dissolves it. It is the mildest, most pleasant soap you have ever used or money back! Enjoy body rub to stimulate body-mind-soul-spirit and teach the essence moral ABC uniting all free in the Shepherd Astronomer Israel's Greatest All-One-God-Faith!
To simplify & enjoy life more, dilute 1/2 oz. or 2 squirts of this pure castile soap with 2 gallons or sinkful hot water, then towel massage, a facial pack, then wring towel out & fingertip massage your hair & scalp. Enjoy the creamy emollient lather on baby, bath, beach, body, dentures, deodorant, shaving, aftershave - silk - wool - pets - diapers - car - hand and foot soap.
Concentrated: Clouds when cold. Put in warm room/water: clears at 70F.
Supplement Facts
Water, Saponified Organic Coconut* & Organic Olive* Oils (w/Retained Glycerin), Organic Hemp Oil, Organic Jojoba Oil, Citric Acid, Vitamin E.
* Certified Fair Trade Ingredients
Warnings
Keep out of eyes. If cap clogs, poke it clear only: Do not squeeze bottle and shoot out soap. Soap can clog and spurt with pump dispensers. Flush eyes well with water for 15 minutes. Consult a physician if irritation persists.

更多產品